Certified secure computer user (CSCU)
Ethical Hacking Training Institute in Surat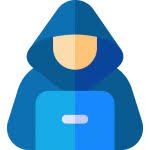 The purpose of the Certified Secure Computer User (CSCU) training program is to provide students with the necessary knowledge and skills to protect their information assets. This class will immerse students into an interactive environment where they will acquire a fundamental understanding of various computer and network security threats such as identity theft, credit card fraud, online banking phishing scams, virus and backdoors, emails hoaxes, loss of confidential information, hacking attacks and social engineering. More importantly, the skills learned from the class helps students take the necessary steps to mitigate their security exposure.
This certification is an excellent complement to educational offerings in the domain of security and networking.
Educational institutions can provide greater value to students by providing them not only with one of the most updated courseware available today but with a certification that empowers their students in the corporate world. The courseware comes complete with labs and exercises to allow the student to gain actual skills.
Introduction to data security
Data–Digital Building Blocks
Importance of Data in the Information Age
Threats to Data
Data Security
Potential Losses Due to Security Attacks
Implementing Security
Security operating systems
Guidelines To Secure Windows
Guidelines To Secure Mac OS X
Malware and antiviruses
What is Malware
Types Of Malware
Symptoms Of Malware Infection
Antivirus
Configuring and Using Antivirus Software
How To Test If an Antivirus is Working
Internet security
Understanding Web Browser Concepts
Understanding IM Security
Understanding Child Online Safety
Security on social networking site
Understanding Social Networking Concepts
Understanding Various Social Networking Security Threats
Understanding Facebook Security Settings
Understanding Twitter Security Settings
Securing email communications
Understanding Email Security Concepts
Understanding Various Email Security Threats
Understanding Various Email Security Procedures
Securing mobile devices
Understanding Mobile Device Security Concepts
Understanding Threats To a Mobile Device
Understanding Various Mobile Security Procedures
Understanding How to Secure iPhone and iPad Devices
Understanding How to Secure Android Devices
Understanding How to Secure Windows Device
Mobile Security Tools
Securing the cloud
The Concept of Cloud
How Cloud Works
Threats To Cloud Security
Safeguarding Against Cloud Security Threats
Cloud Privacy Issues
Addressing Cloud Privacy Issues
Choosing a Cloud Service Provider
Securing network connections
Understanding Various Networking Concepts
Understanding Setting Up a Wireless Network in Windows
Understanding Setting Up a Wireless Network in Mac
Understanding Threats to Wireless Network Security and Countermeasures
Measures to Secure Network Connections
Data backup and disaster recovery
Data Backup Concepts
Types of Data Backups
Windows Backup and Restore Procedures
MAC OS X Backup and Restore Procedures
Understanding Secure Data Destruction